Labradorite Bracelet - Aura Protector, Psychic Awareness, Protection, Stabilization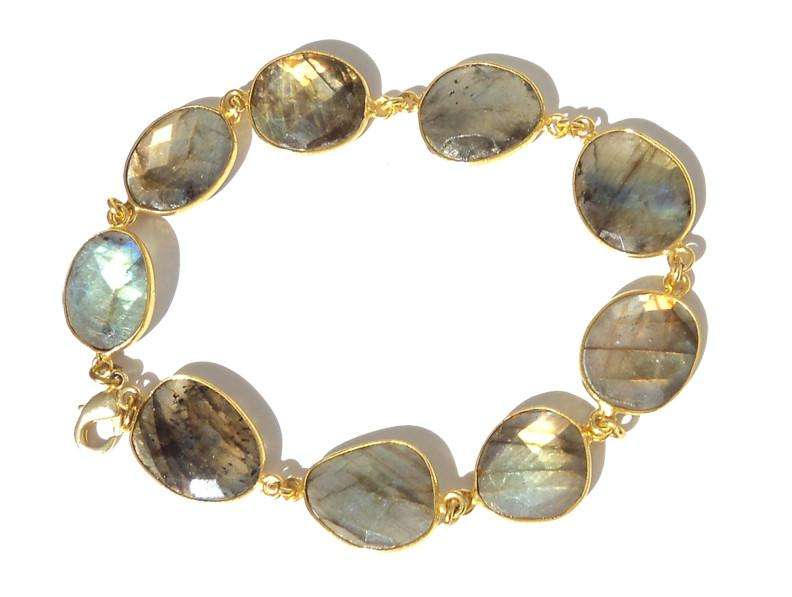 My Dear beloved family of light many of you kept asking me to create protection pieces that you can wear on your body. I am happy to introduce this beautiful pendant.

I have imprinted this bracelet with unconditional Divine LOVE. This pendant has a very strong protection and metaphysical properties. Its made to protect your aura, clear negativity from it, prevent any energy leaks, improve your connection with the Divine. It is a very good gift for yourself and your loved ones.

This bracelet is approximately 9 inches long. 9 genuine labradorite gemstones each measuring between 18mm x 14mm. Lobster Clasp. Gold Plated Brass. Comes in a beautiful gift box.
In spiritual and metaphysical traditions Brass is the metal that brings out natural good and inner truth. Brass is Composed of Copper and Zinc…

Cooper: Since copper is such a wonderful physical conductor of electricity and heat, it is also considered the conductor of the spiritualist's belief system. Copper has the ability to conduct spiritual energy back and forth between individuals, crystals, auras, the mind and the spirit world. It is also believed that copper has the power to amplify thoughts when sending and receiving psychic communications. New Age followers carry copper with their stones and crystals to 'straighten' the properties of them, as well they are used when crating crystal wands to be certain of their clear and straight powers. Copper is also quite instrumental in the physical and mental healing rites of many peoples of this world.

Zink is good for the enhancement of overall life-forces as well as building confidence, strength, and courage; provides for the synthesis of personal power, physical energy, and creativity, producing a stimulation of the electric currents within the body, and facilitating a removal of energy blockages; it is said to be beneficial to furthering relationships on the physical plane; enhances passion;

Gold: To increase the healing powers of stones depend on cycles to fulfill their manifestation. (Source: shimmerlings.com)

Labradorite radiates a predominant blue crystal energy that stimulates the Throat Chakra, the voice of the body. It is, in essence, a pressure valve that allows the energy from the other chakras to be expressed. If it is blocked, or out of balance, it can affect the health of the other chakras. When the throat chakra is in balance and open, it allows for the expression of what we think and what we feel. We can communicate our ideas, beliefs, and emotions, bringing our personal truth out into the world.

We have an easy flow of energy within the body and spirit. The energy that springs upward from the lower chakras can continue its path
enabling free expression and natural release. Darker shades of blue encourage the power of truth, while lighter shades carry the power of flexibility, relaxation, and balance. Labradorite, with its iridescent flashes of color, can be very beneficial in uniting all of the chakras.

Wearing or carrying Labradorite allows one's innate magical powers to surface. It enhances the mental and intuitive abilities of clairvoyance, telepathy, prophecy and coincidence control, and assists in communication with higher guides and spirits in accessing Akashic records, psychic readings and past-life recall. It provides an ease in moving between the worlds, and permits a safe and grounded return to the present.

Labradorite is a powerful protector of the aura, preventing energy leakage, and others from tapping into and draining your personal energy. It ensures all elemental forces are empowered and proportional within one's system. Referred to as the "temple of the stars," Labradorite is thought to bring the light of other planetary beings to the soul of the user.


Its labradorescence is believed to be of extra-terrestrial origins, and enclosed in the mineral to bring the evolved energies from other worlds to the Earth plane. (Source: Crystalvaults.com)
Labradorite Bracelet - Aura Protector, Psychic Awareness, Protection, Stabilization
$ 99.99